About Us
Our studio in Vienna was founded in 2004 after many years of practice in the field of restoration and conservation, both here and in England.
Years of study and bench experience with renowned international workshops are the foundations for our working knowledge. Teaching, active involvement in conservation institutions and project management have extended the theoretical knowledge of our specialist subject and beyond.
The studio is the realisation of our common goal to provide ethical restoration practice and outstanding craftsmanship for private customers, museums and institutions.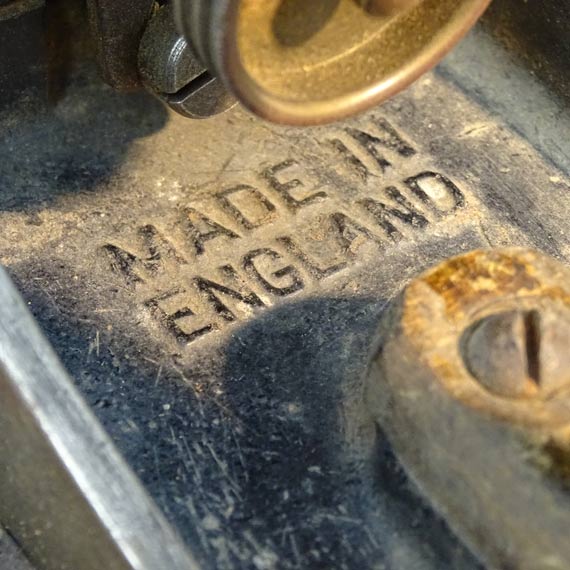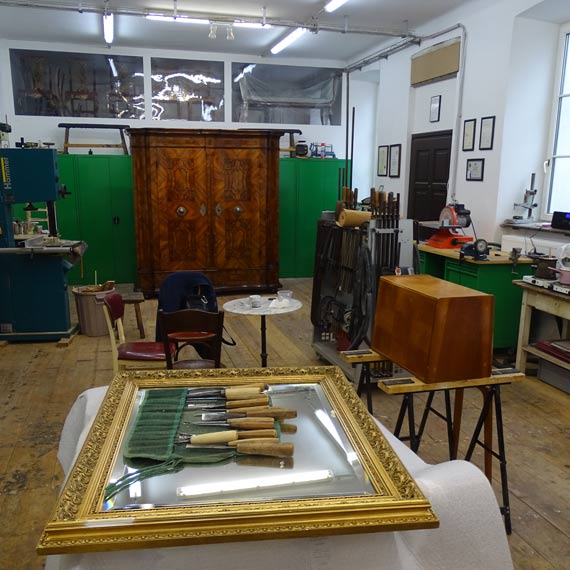 Richard Addison
gained 20 years of experience in restoration, teaching and management in England as a basis for self employment in Vienna. Here he combines his knowledge of the conservation challenges in individual objects and his extensive craftsmanship abilities with a close working relationship with customers.
Richard is a member of the ÖRV (Austrian Institute of Conservation). He also provides custom made mounts for object display in museums.
Biografie
| | |
| --- | --- |
| 1982–1984 | London College of Furniture – Ordinary National Diploma in Cabinetmaking, Design and Restoration  (OND) |
| 1984–1986 | London College of Furniture – Higher National Diploma in Furniture Restoration (HND) |
| 1986–1988 | Cabinet Maker and Restorer in various workshops , England |
| 1988–1997 | Furniture Restorer and Exhibition/Museum Object Mounting, Plowden & Smith, London |
| 1996 | City & Guilds Teaching Certificate 7307: Teaching in Adult Education |
| 1997–1999 | Assistant Tutor West Dean College, West Sussex. Postgraduate Diploma for Furniture Restoration and Conservation |
| 1999–2000 | Manager, Furniture Restoration Department, Plowden & Smith, London |
| 2000 | UKIC accreditation (United Kingdom Institute of Conservation of Historic Works of Art) |
| 2000–2002 | General Workshop Manager, Plowden & Smith – coordination of work and restorers in 9 restoration/conservation departments (e.g. Furniture, Paintings, Stone, Metal, Ceramics, Gilding etc.) |
| 2002–2003 | Senior Project Manager, Plowden & Smith – coordinating large restoration projects (e.g. The Kings Library for the British Museum and The Hereford Chancel Screen for the Victoria and Albert Museum) |
| 2002–2003 | UKIC Membership Secretary for the Furniture and Wood Section |
| 2004 | Founding of Addison Restoration, Vienna |
Andrea Addison
studied and worked both in Vienna and England. With experience and knowledge gained in various reputable workshops, she now relishes the wide ranging restoration challenges that appear in her own studio. Conserving, reviving or reconstructing surface finishes is one of her great passions.
Biografie
| | |
| --- | --- |
| 1992–1994 | HTL Mödling; Interior Design and Cabinetmaking |
| 1995–1997 | Training in Furniture Restoration, Jan Makovec Restoration, Vienna |
| 1997–1998 | Postgraduate Diploma for Furniture Restoration/Conservation;  West Dean College; Chichester (University of Sussex) |
| 1999–2000 | Restorer for Richard Higgins Restoration, Shrewsbury, England.  Specializing in finishing, Training in Wood Turning |
| 2000–2003 | Restorer for Godson & Coles, London.  Training in Carving, Decorative Surfaces and Japanning |
| 2004 | Founding of Addison Restoration, Vienna |